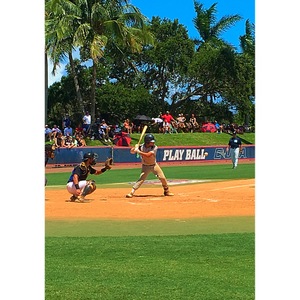 Yesterday's All-Star Game included a lot of talent performing on the field and drew attention from many professional scouts who were in attendance at Florida Atlantic University. The West Boca team was well represented with each of our position players accounting for at least one hit and both pitchers showing velocities in the upper 80's.
Snappers 2B Sal Geraci and OF Dave Brehm, teammates at LIU Post, led the offensive attack going a combined 3 for 7 with 1 RBI in the game. Geraci played the entire game for the South Division and was able to pick up 2 singles including a bunt and RBI ground ball through the right side. Brehm entered to game in the sixth inning going 1 for 2 with a double and HBP.
1B Seth Douglas from Canton University entered the game in the sixth inning as well and quickly made his presence felt by hitting a rocket down the left field line for a stand up double. Douglas would end his day going 2 for 3 after adding a bloop single in his next at bat.
Tyler Bauman from St. Leo University would be the first Snappers pitcher to enter the game as he threw a scoreless second inning. With his adrenaline flowing he was able to sit 88-90 while touching a career best 91 MPH. Bauman did not allow a base runner and had one strikeout as he made quick work of the North Division lineup.
Sophomore RHP George Rodriguez from Fordham University was the last Snapper to make his appearance in the game as he would throw the ninth inning. He looked very loose as he did not throw a fastball under 87 MPH and had a very effective curve ball working. "He is one of the guys on the roster with a lot of upside as he is still figuring out how to use his body," said head coach Ross Smith.
Also selected to the 2016 SFCBL All-Star game was RHP and closer Zach Schneider from Polk State College. Zach was not able to throw in the game due to injury but has been able to make a full recovery and appears to be ready to help the Snappers with their playoff push.
"We are very pleased with the performances of all of this years All-Stars and couldn't be happier with how they represented our organization today," said GM Ryan Lamb. The Snappers are currently in sixth place and will look to finish the season strong playing their way into the playoffs.